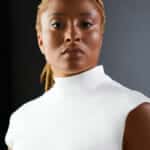 Had a check-in convo with my manager Steven Buchsbaum who kindly stated (not in his words) that I need to level up on my headshots. It didn't have that "glow" he noticed when he talked to me in person.
I will tell you this, I have never loved my headshots. I have had nice headshots. "Pretty", "Profesh", "Cute" whatever you want to call it but one thing I know, they didn't look like me.
Headshots have always been this expensive corny corporate sort of thing that we all have to invest in and if you make a wrong choice your screwed until you can afford more. This is the first time I saw myself and the roles I would like to see myself in. That's a beautiful thing. I want to be called in for the captain of the ship for Star Wars or Star Trek, a boxer, a teacher, zen goddess, mental health practitioner, an artist, on adventures to magical lands, or a bad ass marvel super shero and beyond.  Maria Atubiga beat my face to the gawds on PERIODT and Gareth is the man! He showed me the way and I am never going back.
As I continue to put my hat in the ring, I want to make sure I put my best foot forward. This storytelling life is challenging. For me, at this point in my career it's about intentionality and manifestation of what is for me. Period! Love and light! The journey. For all my storytellers I am sending #love to you because I know it's hard out here. Don't give up though.
Love, J
Javana Mundy