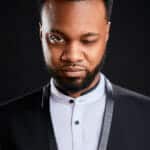 Gareth is TOP NOTCH when it comes to professional headshots! His professionalism and warmth will have you feeling like the STAR you truly are! Seeing the results of our shoot I felt more comfortable and I see myself more on-screen and on TV than I ever did before.

I didn't know what to expect going into the session really. With whoever you work with, you want to make sure you can trust them and that there are good vibes to help things flow. The consultation was truly great because Gareth inspired me to really look into and understand what Pinterest was. I went in more prepared than I would have if we didn't have that consultation,
I felt so comfortable and free! Gareth and Titania didn't come off as just people doing a shoot, they came off like FAMILY. Feeling safe for something as vulnerable as taking photos is tied at #! with taking great images, Which was executed beautifully and flawlessly.
HIGHLY recommended!
Skye Washington